| | | |
| --- | --- | --- |
| | LOTUS SEVEN REGISTER | |
the web site for the

Seven made by Lotus between 1957 and 1973
~ The Lotus Seven Story ~
Chapter Fourteen
The Series 2½, Special Series Two cars, Gullwing Hardtops and IRS.
THE SERIES 2½:
The car made between mid-1968 and the end of the Series Two production in August 1968 became known as the Lotus Seven Series 2½. It was a transitional model and is distinguished from the other Series Two cars having an air scoop on top of the bonnet on the offside.
FORD's NEW CROSSFLOW POWER UNIT:
The new engine was Ford's 2255E 1600cc crossflow used in the Cortina 1600GT. It had overhead valves like the previous non-crossflow unit, a 9.0:1 compression ratio, a single Weber 32DFM twin choke progressive down-draught carburettor with Coopers air cleaner and was in standard Ford Motor Company tune developing 84bhp at 5,500rpm. The gearbox, remote and gearknob was as for 116E engine. Also available at the same time although very rare in a Seven was a similar 1300cc. unit developing 72bhp at 5,500rpm. The rest of the car remained the same as the previous Series Two model using up the old Standard Ten axles with 4.1:1 crownwheel and pinion ratio and Triumph Herald wheels, thus unaltered P.C.D.
NEW INTERIOR FEATURES:
The last few Series Two cars including any Series 2½ models may have been trimmed in black in lieu of red.
PRODUCTION:
It is not clear from the factory records how many Series 2½ cars were made, but as it was a transitional model using up the old stock of parts, it is generally thought that there were not many. Two crossflow engine options replaced the three non-crossflow units that had been latterly available with the previous model: 105E (39bhp), 116E (66bhp) & 116E Cosworth (95bhp) now became 2255E 1600 (84bhp) and 2255E 1300 (72bhp) crossflows.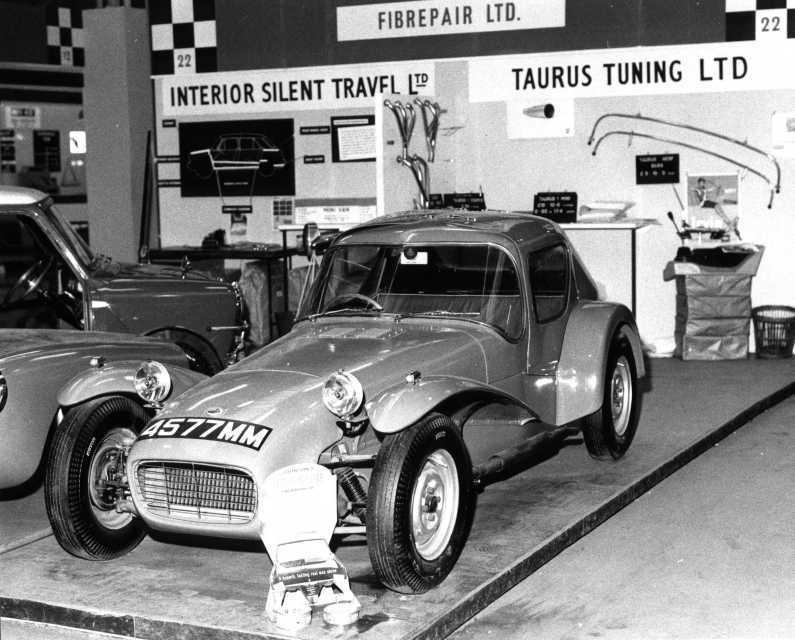 1963 Racing Car Show Stand.

GULLWING HARDTOPS:

By the early 1960's competition in the Clubmans and Sportscar classes of racing had become stiff indeed and as ever racers were looking for easy laurels. One way was entry into the GT classes where cars tended to be heavier and therefore slower for their engine size. Designed with competition in mind, Messrs Fibrepair Limited of 21 Lancaster Mews, Paddington, W2 displayed their gullwing hardtop called "The Seven GT" on Stand 22 at the Racing Car Show in January 1963. Previously the aluminium prototype had raced at Boxing Day, Brands Hatch 1962 where it turned in the fastest practice time, although sadly sparking plug failure had meant a d.n.f. in the actual race.
Seven GT Racing.

Fibrepair's "Seven GT" hardtop cost £77-0-0 supplied in kit form, but could be fitted to your car by the suppliers in a day for an additional £10-0-0. In the event only a few cars with these hardtops found their way onto the public roads as the cockpit atmosphere was uncomfortable being, too hot because of lack of ventilation, too noisy due to lack of sound insulation and a sound box effect and too smelly due to engine and exhaust fumes and the smell of hot glass fibre. More were fitted to competition Lotus Sevens, but sadly only a handful of the few made survive today.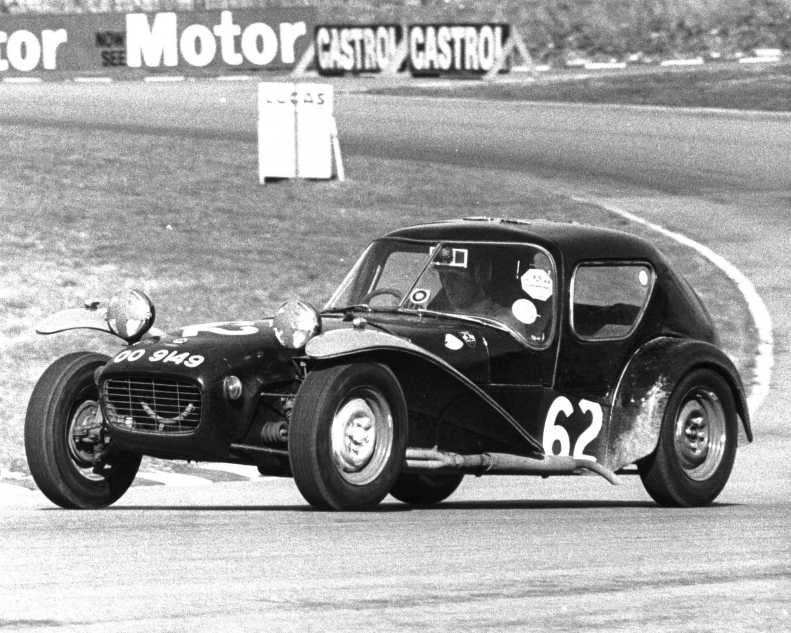 The ex-Piers Courage Seven.

SEVEN REAR SUSPENSION PROBLEMS:

As mentioned previously, the first Lotus Seven, which Edward Lewis had piloted at The Brighton Speed Trials in September 1957, was fitted with the de Dion rear suspension from a Lotus Eleven. Except for those five special de Dion/Climax Series One Sevens, all used well located, strong BMC axles. The Series Two however had a weak axle located in a cost effective but unsatisfactory manner which was a problem when increases in power and tyre performance came into play. As they still do today, racers were always looking for answers to problems and their successful solutions were readily copied by the competition.

EARLY SEVEN IRS:

The first fully independent rear suspension system was fitted to a Lotus Seven Series One in 1962. It was designed outside of factory hours by Lotus engineers Hugh Haskell and Don Gadd, for a car owned by David Porter and Keith and Wendy Hamblin. It utilised the differential from a Lotus Type 14 Elite and uprights and universal joints from a Lotus 20 Formula Junior single seat race car. Whilst other IRS Sevens followed in varying forms, they were always expensive compared to the cost of beefing up a rigid axle and were prone to breakage as well as having a high cost of maintenance. Only a few survive today.

THE LOTUS THREE-7:

Lotuses two stands at the January 1965 Racing Car Show at the Horticultural Halls, London displayed five cars: A special Lotus Cortina with a BRM built Lotus Ford twin-cam engine, a race version of a Lotus Elan S2, a Lotus 30 chassis with engine exposed, a Lotus 35 Formula 2 car and the Lotus Three-7, a special car designed for the new Clubman's Formula. This new formula was intended as an entry into circuit racing. Other cars competing included the Terrier and Arthur Mallock's U2. Lotuses 'Three-7' designation was coincidental to it being the next in their type number order.

SPECIFICATION:

Improvements over the ordinary Seven and Super Seven models include: Double wishbone front suspension, fully independent Formula Junior type rear suspension with fixed length drive shafts, disc brakes to all wheels with twin master cylinders offering balance between front and rear, dry-sumped Cosworth-Ford Mark IX 1500cc engine developing 120bhp, light allow bellhousing and gearbox casing and 13" x 6" lightweight magnesium alloy wobblyweb wheels with Dunlop R6 racing tyres.

A PROBLEM OF COST:

At £1350-0-0 in component form the new car was too expensive to attract any orders and the show model remained the only example. After the show the car remained languishing in a corner at the Cheshunt factory until it was prepared and raced by Lotuses then Sales Director, John Berry who had some success in the car. At the end of 1965 it was sold to Essex racer, Peter Deal, who successfully campaigned it in 1966 Season.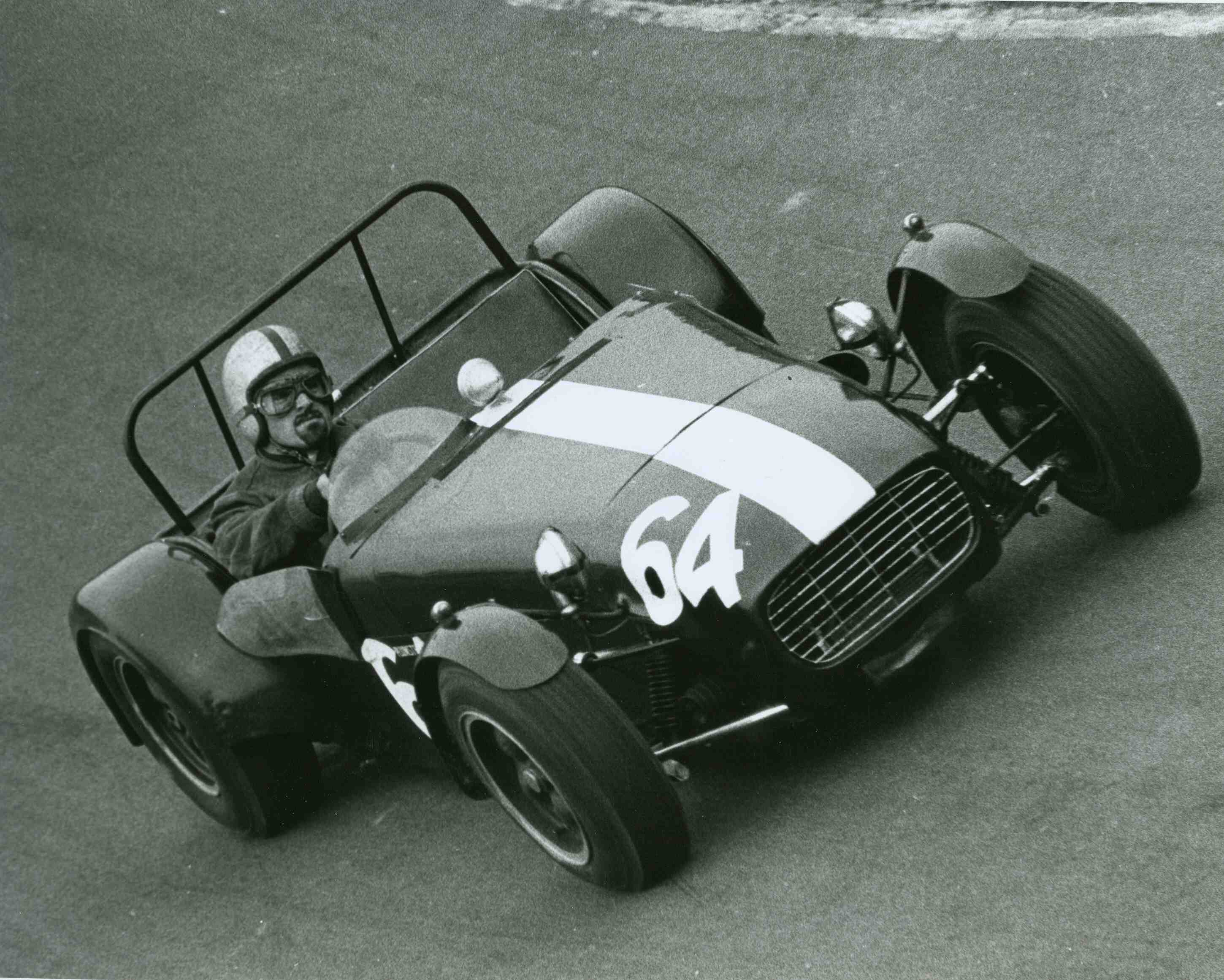 John Berry racing the Type 37 in 1965.

THREE YEARS WITH TIM GOSS:

At the end of 1966 Tim Goss bought the car from Peter Deal for £1100-0-0. (Deal was going on to Formula 3.) Tim had considerable success in 1967 achieving four wins, seven seconds, sevens third places and seven lap records. He was runner-up in the Clubmans Championship to Howard Heerey in a Chevron B1. During 1968 the engine was bored out to 1600cc, Elan parallel link double wishbones were mounted onto the spaceframe and wider wheels were fitted. Only one race was entered in that year which was at Mallory Park where Tim won, but there was considerable success at the Chamrousse International Hillclimb in the South of France with eighth place overall and a class win and a class record.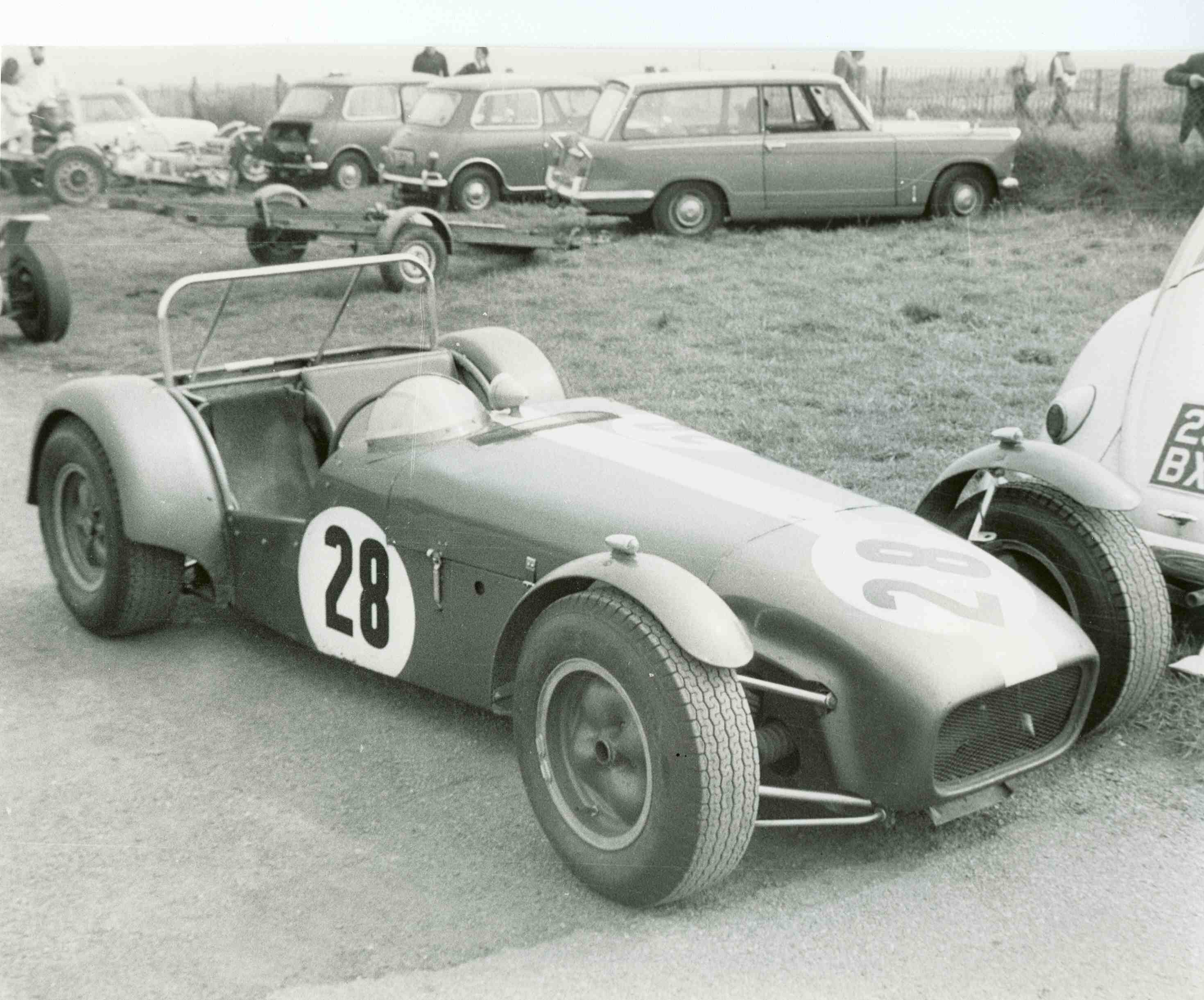 The Type 37 when owned and raced by Tim Goss.

TOP HONOURS AT LAST:

In 1969 Tim found the money to do a full season again and won the big classes in the Clubman's Championship and the Lotus Seven Championship taking 14 wins, 3 seconds and 2 third places. In addition there was a repeat of the previous years performance at Chamrousse with both a class win and new class record. At the end of the year the car was sold to Peter Valdar whilst Tim went on to campaign the Lotus 7X winning the Gregor Grant Clubmans Championship in the 1970 season.

POSTSCRIPT:

Valdar had little success with the car and sold it in the same year to Ashley Devonshire who restored it moving the engine back a la Mallock. Ashley went on to own the car for over 30 years, selling it at auction in March 2001 for a hammer price of £49,000. The new owner who paid £56,350 including buyer's premium is believed to live in Holland.

JWW

Coming next Chapter 17:

Lotus Seven Series Two Specification Synopsis.

Photographs courtesy of:

Ferret Fotographics

Tel: 01453-543243

Sources and further reading:

Lotus Seven by Jeremy Coulter (1986/1995)